INVENTORY :
Create New Locations, Create New Warehouses, Put Away Strategy, Routes (Push Rules), Create New Product, Reordering Rules, Bill of Materials, Make to Stock, Make to Order, Partial Transfer, Tracking by Lots, Tracking by Unique Serial Number, Landed Cost, Picking Batch, Stock Level, FEFO (First Expiry First Out), LIFO (Last In First Out), FIFO (First In First Out), Packaging, Quality Control, Pick Pack Ship, Product Variant, Barcode Label, Drop Shipping, Costing Method & Inventory Valuation
MODUL MANUFACTURING :
Manufacturing Orders, Unbuild Order, Multiple BoM, BoM Type Kit (Manufacturing Order), BoM Type Kit (Sale Order), Work Center, Routings, Work Order, ByProduct, Repair, Scrap Orders
Profil Instruktur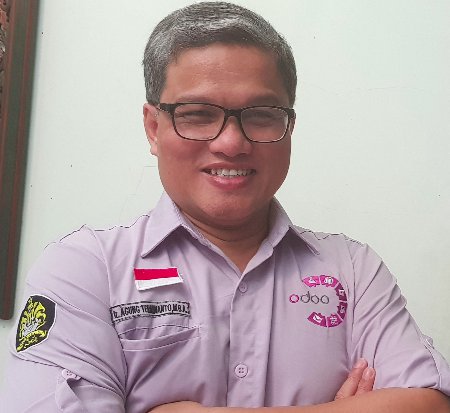 Dr. Ir. Agung Terminanto, MBA, IPM, CEL, CEA
Founder & CEO PT Ctech ERP Indonesia, ERP Odoo Spesialist
Deskripsi Pemateri:
I am a lecturer and practitioner of ERP Odoo in Indonesia. I am a lecturer at the Faculty of Computer Science, University of Indonesia (https://www.cs.ui.ac.id/) and Pancasila University, teaching the Odoo Enterprise Resourcse Planning course. I work at PT. Desktop IP (https://desktopip.com/). Experienced for more than 28 years in the manufacturing and information systems industry, covering various areas ranging from, ERP (Enterprise Resources Planning) Odoo, Production, PPC (Planning Production Control), System Development, Process Engineering, Quality Control, Sales & Warehousing, and Cost Engineering, as well as Management Development Systems, Risk Management etc.
I am a graduate of Doctorate in computer science from the University of Indonesia with a Dissertation Title: Cloud ERP adoption Model for Indonesian MSMEs: Critical Success Factors, Level of Readiness, Implementation and Configuration Preferences using the Odoo Framework. (https://www.cs.ui.ac.id/index.php/model-adap-cloud-erp-umkm-untuk-indonesia/). I implemented Odoo in 10 MSME companies.
I have computer skills from various fields: ERP-Enterprise Resources Planning - ERP Open Source Odoo / OpenERP until version 12.0, Oracle e Business Suite 12.1.4 (Module Order Management, Procurement, Inventory, Forecast to Plant, Plant to Produce, Accounting & Finance, Asset Mgt), Linux Ubuntu 18.04 operating system, Window, Statistics, Simulation, Office, Project Management, Graphics, Marketing, etc.
Mastering various manufacturing methods starting from ISO 9000/14000, MRP, Inventory (Kanban / JIT), Lean Manufacturing, Total Quality Management, Kaizen, Statistical Control, Quality Control Circle, Business Process Mapping, etc.
Fasilitas: Webinar Only
Program ini tidak menyediakan Sertifikat Kehadiran bagi peserta Free Webinar
Peserta yang mengikuti Free Webinar tidak akan mendapatkan Sertifikat
Modul/Materi dan Ujian hanya diberikan bagi peserta Kursus Bersertifikat (Berbayar)
Program ini menyediakan Sertifikat Kursus bagi peserta yang lulus ujian saja
Ujian dapat dilakukan setelah membaca semua Modul/Materi
Fasilitas Kursus:
1) Recorded Webinar
2) Modul Pelatihan
3) Group Discussion
4) Ujian Online/Remedial
5) Sertifikat Completion dengan syarat: Menonton video dari awal sampai dengan akhir
6) Sertifikat Kelulusan dengan syarat: Membaca modul dan lulus ujian dengan Passing Grade 65/100
7) Peserta Kursus tidak wajib mengikuti Live Webinar (Zoom)
Keterangan:
1) Peserta tidak akan mendapat Sertifikat kehadiran
2) Peserta yang mengikuti live webinar tidak akan mendapat sertifikat
3) Sertifikat diberikan kepada Peserta yang sudah bergabung Kursus Bersertifikat (Berbayar) dan telah Lulus ujian dengan syarat seperti di atas
4) Untuk bisa melakukan Ujian Peserta harus membaca semua Modul/Materi
Langkah-langkah mengikuti Kursus Bersertifikat:
A. Peserta Perorangan
1) Klik Bergabung Kursus Bersertifikat
2) Klik Join Course, maka akan diarahkan ke halaman pembayaran Payment Gateway. Anda bisa pilih metode pembayaran yang ingin digunakan.
3) Melakukan pembayaran sesuai harga yang tertera di website

B. Peserta Kelompok
1) Melakukan pembayaran secara berkelompok**
- Umum: Rp100.000 per orang
- Mahasiswa: Rp50.000 per orang*
**) Kelompok minimal 10 orang dari Instansi/Perguruan Tinggi yang sama.
Cara Pembayaran Kelompok: Kumpulkan biaya kursus ke satu orang koordinator. Koordinator kemudian menginformasikan daftar nama anggota kepada Admin. Koordinator melakukan transfer gabungan pembayaran ke rekening yang diberikan oleh Admin. Setelah itu, peserta akan diberikan Kode Voucher.
2) Klik Bergabung Kursus Bersertifikat
3) Masukan Kode Voucher yang telah diberikan Admin di bagian "Kode Voucher".
4) Klik Apply, tunggu sebentar sampai biaya kursus pada kotak orange berubah menjadi nol
5) Klik Join Course

*) Mahasiswa/Fresh Graduate silakan upload Foto KTM/Ijazah pada bagian Bukti Mahasiswa di Tab My Profile - Biodata.
Narahubung:
Agung wa.me/6281320415058